SPRING 2003
TRENDSETTERS
The Gamer's Angel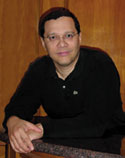 In 1997, an investment banker set out to convince the world that he could upgrade cyberathletic competition to the level of a professional sport. Skeptical investors, and even gamers, snickered at his vision. Today, Angel Muñoz is founder and president of the Cyberathlete Professional League (CPL), a multimillion-dollar computer gaming empire that now includes 300,000 cyberathletes in 30 countries, annually awards more than $400,000 in prize money, and has attracted such sponsors as Intel, Microsoft, Logitech, and ViewSonic.
Its showpiece event, the CPL championship, attracted more than 2,000 players last year, and this summer, the winning team will take home $60,000.
So, how did he push past the skeptics and snickers? "With tenacity," says the 42-year-old father of two. "I tend to be tenaciously stubborn, and it was tough for me to accept defeat." But he couldn't have done it alone, he says, remembering the quote from Spanish philosopher Miguel de Unamuno he has treasured since high school: "Un hombre es él y sus circunstancias." (A man is himself and his circumstances).
"I surrounded myself with people who believed in the concept and were as enthusiastic or more so than I was," he says. "They were willing to put in the hard work and even risked their financial stability in the process." These factors alone, however, did not account for his remarkable success. "Our timing was perfect," Muñoz recalls. In 1997, he explains, there was enough of a demand from people to compete in computer games, but there was also a limited number of gamers. "This allowed us several years to perfect our systems; it was practice time," he adds, so that by the time the industry's expectations and popularity had risen, CPL was ready.
And, he says, the state of the industry has complied. "It has grown so dramatically, especially in the last three to four years." Sales of video games and related gear are predicted to top $31 billion in sales this year.
Along the way, Muñoz adds, he was not content with simply ignoring the cynics; he wanted to convince them that he was right. "The industry is fairly small," he says, "so you can't turn your back on it." Instead, Muñoz made sure to publicly announce any and all company milestones. "We didn't always hit our projections," he admits, "but when he did, we made a big deal about it." What's next? "To attract people not necessarily involved in gaming, including casual gamers, and even viewers," says Muñoz. "To get away from the niche market toward a broad audience."
"The competitions are not at all what people imagine," he says. "It's loud, with a lot of communication between team managers, coaches and players. They're very engaging, and highly emotional," Muñoz affirms, "especially when the winning team takes home 60 grand."
– Isis Artze